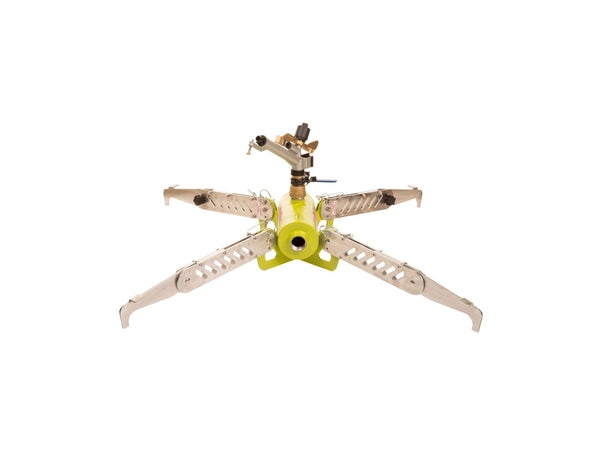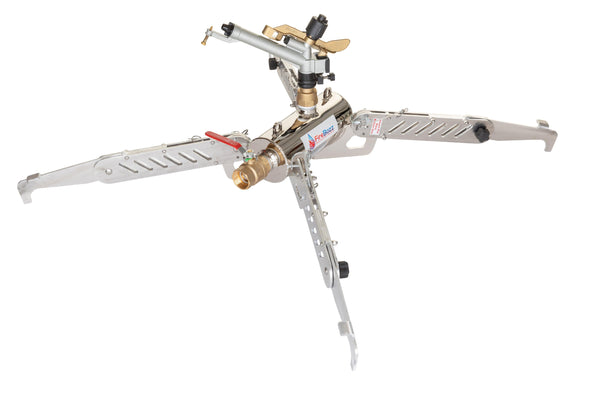 A single cannon can shoot water, foam, or retardants up to 110 feet radius with a full 360-degree traverse or partial arc. It can be connected with other FireBozz® units to create rapid and expanded firebreak capability. Weighing 24 lbs the FireBozz® can be carried and deployed in less than a minute.
Quick and easy setup on any terrain

Tough, welded stainless and aluminum construction
Does not damage houses located in the interface environment
Multi-purpose water dispersal perfect for emergency response, municipal works, and resorts
Easy setup and walk-away features allow operators to get out of harm's way
Broken stream allows maximum conservation of water resources
Loads the air with a protective misting envelope to raise relative humidity values over a wide area

Multi-unit connection creates a quick, robust, and extremely large wet-line
FIREBOZZ® MINI – FEATURES & SPECS
Diameter of Protective Envelope
Up to 190' (58m)
Water Usage
27 – 88 gpm (102 – 333 lpm)
Nozzle Heads
8, 10, 12mm
Inlet/ Outlet
Standard 1.5" (40mm) NPT connector for any adaptor
Weight
24 lbs (11 kg)
Storage Dimensions 
18" x 19" x 11" (46cm x 48.5cm x 28cm) L x H x W
DOWNLOADS
HOW FIREBOZZ® WORKS
Fire can only spread through heat. Remove heat - remove the fire. Cool the fuels and ignition cannot start. FireBozz® units do this in two ways.
Projection of water over a massive area
Injection of vapour into the atmosphere to create a humidity bubble
A massive protective area can be established easily and much more rapidly than with traditional sprinkler systems. The FireBozz® rapid deploy system allows a high degree of confidence for your home, livelihood, and industry to be protected.