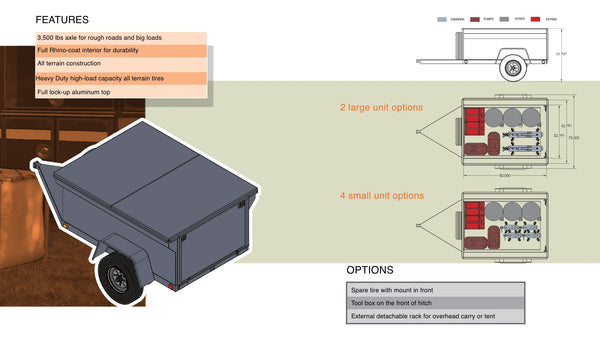 FireBozz Typhoon Trailer is the state of the art in the
FIREBOZZ® MAGNUM – FEATURES & SPECS
Diameter of Protective Envelope
Up to 300' (92m) in diameter protection
Water Usage 
37 – 110 gpm (140 – 416 lpm)
Nozzle Head Size
.4", .5", and .6" (10, 12.7, 15 mm) 
Inlet / Outlet
1.5" or 2.5" NPT (40 and 65 mm) thread size for quick adaption to almost any fire or industrial hose. 
Weight
50 lbs for 1.5" model, 60 lbs for 2.5" model (22 kg & 28 kg)
Storage Dimensions
42" x 21" x 11.5" (104cm x 53.5cm x 29.2 cm)  L x H x W
DOWNLOADS
HOW FIREBOZZ® WORKS
Fire can only spread through heat. Remove heat - remove the fire. Cool the fuels and ignition cannot start. FireBozz® units do this in two ways.
Projection of water over a massive area
Injection of vapour into the atmosphere to create a humidity bubble
A massive protective area can be established easily and much more rapidly than with traditional sprinkler systems. The FireBozz® rapid deploy system allows a high degree of confidence for your home, livelihood, and industry to be protected.